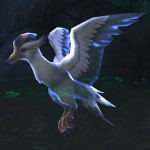 The Quackcestor
1
Thank you, Lazey!
You'll need Maruuk Centaur Renown Level 7 to be able to capture this battle pet.

With that Renown you can get one Essence of Awakening by completing Good at Doings, Not Understandings (pops up when you reach that Level).

You'll also unlock its purchase (1x Occasional Sand + 50x Dragon Isles Supplies) at their Renown Quartermaster Huseng /way #2023 60.39 37.72

This item will be consumed when used and applies a 1 hour Essence of Awakening buff on you to enable seeing residual spirit elements in the Ohn'ahran Plains.

Only with that buff active you can see The Quackcestor critters in the Primordial Vale area /way #2023 42 45.

Some of them are wild pet battles (with 2 teammates) so go and capture yours!
Last Update:
2022-11-27 04:26:35
(Patch 10.0.2)