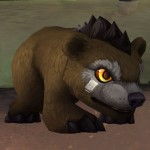 Cubbly
A big thank you to Lazey for finding out how to get this pet, and for passing the information along!
To get battle pet Cubbly, you have to find the Strange Bear Cub in a cave in Eon's Fringe in Thaldraszus on the Dragon Isles. /way #2025 52.46 83.61

Some weird time magic is going on in that area, so most of the creatures there are trapped in time. While you're there, you'll also suffer a Temporal Shock that constantly deals nature damage, and applies a stacking Unstable Time movement slow effect. So your time there is kinda limited, but don't be afraid, some mages will teleport you to a safe spot before you'd die.

There's another barrier before you can get to the pet and it's literally a barrier of rocks that block the cave entrance. So you'll need Dragon Isles Mining, or Expedition Explosives; a reward from Demolitions Access when you reach Renown Level 20 with the Dragonscale Expedition on your first character, purchasable from Pathfinder Jeb, but I guess you can again go for another free one from the quest on another character, when your first one reached that Renown), or someone with one of those who clears the entrance for you.

When you're inside, just interact with the Strange Bear Cub to get your Cubbly. Congrats!
Last Update:
2022-11-27 04:18:09
(Patch 9.1)