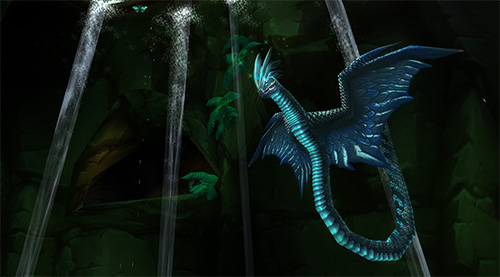 I rarely voice my personal opinion on the design of pet battle content. Often I can understand the game design reasons very well, and I understand the different opinions of players, any side of the spectrum - mostly leaving my own opinion somewhere in the middle. And that is boring.

Now, with the Wailing Critters dungeon live, I would like to make an exception: I really, really like this dungeon.

It is easily accessible for new battlers, with the last boss a tad more challenging, and for those with a huge collection it's still a nice diversion that doesn't take too long to do. And if you don't want to run it repeatedly for the pets, you can buy them.
There are design choices that can be argued about, sure. Did it have to be so dreary? Would it have benefitted from being just a little bit more challenging? Perhaps less randomization in the reward satchel? Maybe, details, but nothing too troublesome.

It is in my eyes a perfect entry point for a line of content. Next up, clearing the rats out of the Deadmines, putting ghosts to rest in Shadowfang Keep or maybe fighting off crazed mechs in Gnomeregan? There could be many cool opportunities to revisit old instances like with Timewalking, and in the background of pet battles. Hands down, I would love that.

In such a limiting context, Wailing Critters does deliver! The atmosphere is coherent with the old Wailing Caverns experience, and the beast / snake theme fits very well.

And yet, I have a problem with it. Not with the dungeon itself, but with this:


It's really up to the players. This is one of the features which is pretty experimental, something we've never done before. It is depending on how players feel about it and how everything ends up. And maybe we'll do more. If everyone thinks it's the worst thing ever, then maybe we won't do it again or maybe we'll take this lessons, learn and will try to do better next time. So it's really up to the players and obviously we are waiting for feedback.

(Direct quote from this 7.2 Q&A)

So what feedback is the dungeon receiving? The majority of the comments I've read are negative or at best neutral. Most public voices are disappointed and unsatisfied with the experience. An overall feeling of meh.

But why? I believe, because this dungeon is only the entry point. Because it is not the whole experience and cannot, never even had the chance to deliver on the vague promises from BlizzCon 2016: Just three words: Pet Battle Dungeon.
That resonated. And it created expectations, for another Celestial Tournament, for the whole thing, for the full set of content: challenge, variety, innovation! Much of the immense criticism and dissatisfaction now is because those expectations were set, and never limited to what the dungeon really is: an experiment. With that build up, you cannot derive the popularity of the dungeon by looking at the feedback. Your data will be flawed, because you set it up to fail.

Please allow me this allegory: it is like promising a full set of awesome equipment with amazing synergies in the set bonus, but then releasing just one single piece, and checking how people like it and how many are wearing it so you can decide if it's worth to create the remaining items as well. Sure, nothing was actually promised, but the expectations were there nevertheless.

What Wailing Critters should have been announced to be is a trailer of more to come. To judge a trailers popularity for future decisions makes sense. But the audience needs to know that they are watching a trailer.

For the sake of this and future pet battle dungeons, and because I thoroughly enjoy Wailing Critters, I can only urge Blizzard to keep this in mind and perhaps give it another chance, with a second piece in the set, and an adjusted and fitting communication strategy.